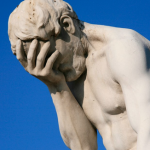 The NFL's decision to use the same law firm to both conduct the "independent" investigation in Deflategate and to advocate for the NFL in the subsequent lawsuit was a rookie mistake.
In fact, I think that the judge's decision today overturning the 4-game suspension can be traced directly back to that rookie mistake.  Why?  Because that key decision created a conflict of interest at the law firm: Was the law firm's role one of independence or one of advocacy?  You can't be both, at least as a lawyer.
Here's how I explained the conflict of interest in my blog of July 29th:
"Here, it seems clear, at least to this attorney, that the NFL has placed the adequacy, reasonableness and independence of the Wells investigation directly at issue. As such, Brady and the NFL Players Association should have been provided with production of the contents of the Wells investigation file, including his communications to/from witnesses interviewed as well as to/from the NFL and others consulted during the investigation process. It is only by allowing the opportunity to review the full investigation file that they can evaluate the adequacy, reasonableness and independence of the Wells investigation."
The federal judge who heard the lawsuit agreed with me, noting that the firm's "role in this case seems to have "changed" from "independent" investigators to NFL's retained counsel at the arbitral hearing."  The judge was concerned that
"[a]mong other things, this change is roles may have afforded Goodell (and Pash) greater access to valuable impressions, insights, and other investigative information which was not available to Brady."
Ya think?
This begs the question, of course, why would the NFL and its law firm (Paul, Weiss – a prestigious and large firm) make such a rookie mistake? One word:

First, the law firm would lose out on what I can only suspect were significant legal fees associated with representing the NFL during the arbitration hearing and subsequent legal appeal if they referred the NFL to another law firm to handle those matters. These legal fees would be in addition to the reported $3+ million in fees paid to the firm to conduct the "independent" investigation. Second, law firms hate to refer their clients to other law firms because there is always the risk that the client will like the other firm better and they'll lose the client on future matters.
As Paul Weiss – the law firm at issue here – scrapes itself off the floor after being handed such a public loss, they may also be well served to call their malpractice carrier and perhaps brace for ethics complaints against several of their attorneys.
And, in the future – they should step back from the $3+ million in investigation fees long enough to evaluate what they are doing and maybe consult the national directory of experienced and well-qualified attorney investigators that is readily available to them at Workplace Investigations Group.