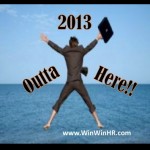 The statistics from the new ManpowerGroup survey will be the numbers touted in leadership, employee communications and human resources meetings through the U.S. They are: 86% of employees are planning their exit for 2013. Only 5% intend stay put. The cost of that kind of turnover could be extraordinary.
Despite this rather alarming finding, however, there's some good news for employers still struggling to recover financially:  Money is not the most important motivator for the majority of these employees.  This is true for both those employees who intend to leave and for those who will be loyal and stay.
A lot has been written about retention.  Here and here are a couple of articles.  In my experience, as an attorney turned communications liaison, facilitator and mediator focused on helping resolve workplace conflict, I have found that the common denominator about the "real" reasons employees leave is often something as simple as a feeling. That feeling is that they sense they are not receiving respect, not valued, and not heard. Increasingly, it seems that "feeling" is epidemic throughout the American workplace. Call it the Era of the Invisible Employee.
So, what can employers, in the private sector, nonprofit, and government, do to change that feeling?
The first step is to demonstrate that you care and the first step in that is to demonstrate that you are listening. Fortunately, thanks to technology there are cost-efficient ways to do the all important listening. Face-to-face focus groups, which can be expensive and iffy when it comes to confidentiality, are being replaced with interactive blogs, intranets configured like Facebook, and internal wiki mechanisms which can capture nuances. They can be programmed to be anonymous. Guidelines are established for keeping the conversation civil.
The next step is to understand that input. We all know that feelings are not facts. They may be irrational. They may not be aligned with reality. They may reflect ancient resentments. However, feelings dominate how human beings see the world and behave in it. Those feelings are the raw materials managers, especially those in employee communications and human resources, must understand and use to help shape into policies and procedures, which are mutually beneficial to your organizations and to the men and women who work in them.
The good news is that because of these new technology tools, policies and procedures no longer need to be derived from an off-the-shelf, cookie cutter set of best practices. They can more easily be tailored to reflect both the organizational culture and how employees feel about belonging.
A version of this article was previously posted at Jane Genova's Public Relations and Speechwriting blog.