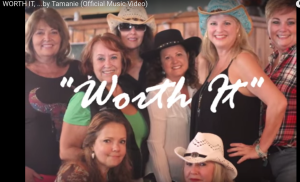 Today's blog isn't about employment law or workplace conflict, but rather about the importance of chasing our dreams.
We all have a hobby or activity that makes us feel great – something that makes us feel like we can soar.
Too often as we get older we let life get in the way of our favorite hobbies and activities.
I'm thrilled to share this awesome music video just released by my friend who is a songwriter and singer. At 50+, she's decided to go for it and chase her dreams!
And, yep … that's me in the turquoise cowboy hat dancing. I too decided to go for it – can now check "be a backup dancer in a music video" off my bucket list …
Enjoy the video and go chase your dreams!  And, if you know anyone in the music industry please share the video and help my friend make her dream a reality!