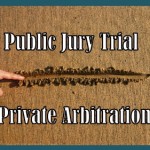 On Monday, Greenberg Traurig, LLP and one of its former shareholders, Francine Friedman Griesing, drew their respective lines in the sand.  Greenberg's line was in the form of a Petition to Compel Arbitration filed in the United States District Court for the Eastern District of Pennsylvania.  Griesing's line was a gender bias Class Action Complaint demanding a jury trial filed in the United States District Court for the Southern District of New York.
Regardless of whether you are on the plaintiff's side or the defendant's side of the proverbial line in the sand these two lawsuits raise significant issues that will be watched closely by members of the employment law bar and female lawyers across the country.  The choice of forum promises to be one of the most important legal issues as the answer will determine whether the case will go forward to a public jury trial or get resolved in a private arbitration.
In the memorandum in support of its petition to compel arbitration, Greenberg asserts that Griesing entered into a valid agreement waiving her right to a jury trial and requiring her to arbitrate any disputes or claims concerning her employment with Greenberg.  Obviously, Griesing disagrees with Greenberg's argument as is evidenced by the filing of her lawsuit seeking a jury trial.
While as a general matter after AT&T Mobility v. Concepcion, it is well settled law that arbitration contracts are enforceable and cannot be invalidated just because they include a provision prohibiting class actions, a case currently pending in the United States Court of Appeals for the Second Circuit distinguishes pattern or practice class actions under Title VII from other types of class actions.  In Lisa Parisi v. Goldman, Sachs & Co., the district court held that the arbitration clause Parisi had signed was unenforceable because to enforce it would deprive her of her substantive right to bring a pattern or practice class action under Title VII.  Specifically, the district court reasoned as follows:
"[Plaintiff's] invididual claims are subject to an arbitration clause signed as part of her employent agreement, and, pursuant to that agreement, Goldman Sachs cannot be required to arbitrate on a class basis.  However, because an arbitration clause may not be enforced if it precludes the vindication of substantive rights, and because a pattern or practice claim under Title VII can only be brought in the context of a class action, [plaintiff's] Title VII claim cannot be committed to arbitration lest she be deprived of her substantive rights."
To date, I've been unable to obtain a full copy of the Shareholder's Agreement in which the arbitration clause at issue is contained. However, whether the agreement is enforceable, I suspect, will involve issues similar to those being argued in the Goldman Sachs appeal.
In addition to the arguments being litigated in the Goldman Sachs case and likely to be litigated in the Greenberg case, the type of pre-dispute mandatory and binding arbitration agreement to which Greenberg is referring has also been the subject of an on-going public policy debate and periodic legislative efforts, such as the Arbitration Fairness Act, to make pre-dispute arbitration agreements unenforceable.  In discussing this debate, however, it is important to distinguish the type of pre-dispute mandatory arbitration agreement at issue in the Greenberg and Goldman Sachs cases from post-dispute agreements to use arbitration, mediation or some other form of alternative dispute resolution.
ADR as a general matter is very useful and helps clear court dockets, provide swifter resolution of disputes, and reduce legal fees.  When an ADR agreement is entered into post-dispute, it is also clearly voluntary and done at a time when the employee and employer can make a meaningful evaluation of the legal dispute and select the dispute resolution process that will be most effective.
By comparison, the National Employment Lawyers' Association ("NELA") calls the type of pre-dispute mandatory, arbitration contract at issue in the Greenberg gender bias class action "forced arbitration" and "an assault on civil and workers' rights" arguing that these types of agreements create a "[d]eck stacked for employers and against employees."  In addition to creating a deck stacked against employees, NELA highlights the following problems with the type of forced arbitration agreement that Greenberg is asking the court to enforce against Griesing:
______________________________
Workplace Investigations Group has a national panel of professional workplace investigators who have a minimum of ten years of employment litigation experience.  As such, wherever the workplace issue arises, we provide you with an investigator who can respond to the regional need quickly and competently.   For more information:  www.Workplace-Investigations-Group.com