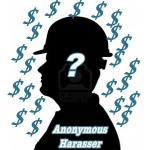 The recent reinstatement of a $3.5 million award of punitive damages by the United States Court of Appeals for the Seventh Circuit highlighted the importance of responding promptly, thoroughly and fairly to employee complaints of harassment, even where the harassers are unknown.   It also serves as a reminder that the appropriateness of an employer's response to harassment will be measured against the gravity of the harassment and that where harassment persists an employer must "progressively stiffen" its efforts.
Lessons learned for employers and a copy of the court's opinion are at the end of the blog.
Three Years of Anonymous Harassment & Death Threats
The events that produced this case started in early 2002 when someone put sugar in the gas tank of Otto May's car.  May was a pipefitter at Chrysler's assembly plant in Belvedere, Illinois.  Over the next three years, Otto May was the target of over 50 anonymous instances of harassment and death threats.   In addition to sugar being placed in the gas tanks of two of his cars, the harassment ranged from graffiti at the plant to death-threat notes in his tool box to punctured tires to a bizarre instance of a dead bird wrapped in toilet paper to look like a Ku Klux Klansman (complete with pointy hat) being place in May's work station.
Here are a few examples of the disturbing and threatening messages:
"Otto Cuban Jew fag die"
"Otto Cuban Jew muther fucker bastard get our message your family is not safe we will get you good Jew is a dead Jew say hi to your hore wife death to the jews heil Hitler [swastika]"
"death to the Cuban Jew"
"no one can help you fucken Cuban Jew We will get you Death to the Jews Cuban fag Die."
"a good Jew is a dead Jew"
May contacted the local police, the FBI, the Anti-Defamation League and complained repeatedly over the three years to Chrysler.
The Employer's Response
     Allowed to Park in Salaried Lot
May complained to security at the Chrysler Belvedere plant and to the local police in February of 2002.  Three months later when his tires were punctured, he again made a report to Belvedere plant security and the local police.  Because he didn't receive a response from plant security locally, May also complained to human resources at Chrysler's headquarters in Michigan.  Ten days after he contacted Chrysler's headquarters, Kim Kuborn, a human resources supervisor at the Belvedere plant contacted May and told him he could park in the salaried lot, which is monitored by cameras.  This solution did not satisfy May, however, because a Chrysler security officer told him that some of the cameras did not record, that some did not work and that even the ones that did work were not monitored.
     Meetings Held With All Three Shifts About Harassment Policy
The threatening messages (including graffiti, printed chain emails, hand-written notes) started in the first half of 2002.   May complained to his supervisor, labor relations and security and provided Chrysler with the notes.
In September of 2002, the head of human resources and the head of labor relations for the Belvedere Plant held meetings with all three shifts of the skilled trades – about 60 people.  Some of the workers were upset about the meeting and complained that the skilled trades were being "singled-out" and that they wouldn't be able to have "fun" at work anymore.  May was upset because only 60 of the more than 1000 plant employees who had access to the areas where the notes and graffiti targeting him was found were included in the meetings.  May also asked Chrysler to install surveillance cameras and swipe-key door locks to monitor who was coming and going from particular areas.
     Staff Advisor from Chrysler's Corporate Headquarter's Diversity Office Visits Plant
Just a few days after the meetings described above, there was more threatening graffiti and at least five more instances of graffiti in October and November of 2002. After receiving another menacing note in his toolbox on December 7, 2002 and feeling like Chrysler was doing nothing to stop the harassment, May contacted the Anti-Defamation League.  In a letter dated December 26, 2002, the Anti-Defamation League wrote a letter to Chrysler's General Counsel in Michigan informing him that "Mr. May has reportedly been the victim of numerous death threats placed in his toolbox, scrawled on his lunchbox and in the freight elevator as well as in other areas."  The League encouraged Chrysler to take all necessary remedial action.
The letter to the General Counsel was forwarded to Scott Huller, a Staff Advisor in Chrysler's Corporate Diversity Office, whose responsibilities included investigating civil rights issues at Chrysler's manufacturing facilities   Huller traveled from Michigan to the plant in Illinois and met with May On January 16 and 17, 2003.  May told Huller he feared for his life and was distressed and depressed.  May again asked that surveillance cameras be installed.
Huller asked May for a list of suspects and May gave him a list of nineteen employees.  Huller returned to Michigan without interviewing any of the suspects or doing any further investigation.  The only action Huller appears to have taken after meeting with May was to give the list of the nineteen employees to Kim Kuborn, a HR supervisor at the Belvedere plant and notably also the wife of one of the suspects identified by May.
     Plant Entry and Exit Data Analyzed
Kuborn took the nineteen names given to her by Huller (including her husband) and created a spreadsheet.  She then used the plant entry and exit data to determine which of the 19 suspects was in the plant at the times when the incidents might have occurred.
     Protocol Implemented for Handling Incidents Involving May
Sometime in 2003, Chrysler implemented a protocol for handling incidents involving May.  The protocol required that anyone who found graffiti or a note was to notify HR and security.  A picture would be taken and the incident documented.  If grafitti was involved, it was to be cleaned-up.  Kuborn was responsible for keeping copies of the pictures and documentation in a binder.
     Handwriting Expert Hired
In May 2003, Chrysler's lawyers retained a forensic document examiner in an effort to identify the anonymous person(s) responsible for the graffiti and notes.  The expert thought it likely that only one person was responsible.  Based on a review of daily entries in plant logbooks, the expert asked for handwriting samples from sixty employees.   Although the expert continued his analysis throughout 2004 and 2005, he was never able to reach a conclusion about who did it.
The Court's Analysis
     Jury and Trial Judge
At the trial, the jury was asked to decide four issues:
Was someone other than May himself responsible for the harassment?
Did Chrysler take steps reasonably calculated to end the harassment?
Did Chrysler recklessly disregard May's federally-protected rights?
What amount of damages, if any, should be awarded to May.
After a seven-day trial, the jury found for May and awarded him $709,000 in compensatory damages and $3.5 million in punitive damages.  Chrysler filed post-verdict motions asking the trial judge to set aside the jury's verdict.  The trial judge determined that the jury's compensatory damages award of $709,000 was excessive and May decided to accept a reduction of the award to $300,000 to avoid a re-trial.  The trial judge also vacated the jury's punitive damages award, finding that May failed to present sufficient evidence that Chrysler recklessly disregarded May's federally-protected rights.  Both sides appealed.
     The Court of Appeals
In a strongly worded opinion, the Court of Appeals affirmed the jury's finding of liability and reinstated the jury's award of $3.5 million in punitive damages.
     Basic Liability Analysis
In discussing Chrysler's liability, the Court of Appeals was dismissive of Chrysler's response during the first year of written threats and harassments, summarizing the company's efforts as "They held a meeting.  They interviewed May."  Similarly, the Court of Appeals was not persuaded by what it called "Chrysler's behind-the-scenes" efforts to document the harassment, analyze the gate records and retain a handwriting expert.
The Court of Appeals also highlighted that the jury heard about "what Chrysler did not do," including Chrysler's failure to interview anyone on May's list.  In discussing Chrysler's failure, the Court explained:
"When an employee has been subjected to repeated threats over the course of many months and the employer has a list of names, the employer's investigator should talk to some of those people – or at least a jury would not be irrational to think so.  And perhaps that would be asking too much if it had explained to the jury that it had a different approach to the investigation that was also reasonably likely to be effective … But the  jury heard nothing of the sort.  It heard that Chrysler documented the incidents and used gatering records to narrow the field of potential suspects.  In the face of repeated vicious death threats, a jury could conclude that Chrysler's document-and-narrow approach was not good enough."
In affirming the jury's finding of liability, the Court also pointed to Chrysler's failure to install even a single surveillance camera despite not only May asking them to do so but the police suggesting it as well.   The Court found Chrysler's contention that the plant was too massive to cover it with cameras and that the union wouldn't have allowed it any event to be undermined by Chrysler's installation of a camera in 2008 to try to catch someone destroying company property.
     Punitive Damages Analysis
On appeal, Chrysler argued that it cannot be held liable for punitive damages because it made a good-faith effort to stop the harassment.  The Court of Appeals rejected this argument, stating that
"[a] good-faith effort at compliance, however, is not a matter of declarations about how much the employer cared about a victim of harassment or about how hard HR employees say they worked to rectify the situation.  When those declarations are belied by the employer's actions, talking a good game will not immunize an employer from a judgment that it was reckless."
The Court seemed particularly troubled by Chrysler's attempts to show that May himself was responsible for the threatening graffiti and notes, noting that the "jury was presented evidence that Chrysler was not as concerned for May as it was about getting rid of him and keeping costs down."  The Court of Appeals was also troubled with Kuborn's (the HR person principally responsible for May's case and married to one of the suspects) failure to recuse herself.
Interestingly, although the trial judge did not rule on whether the jury's $3.5 million award of punitive damages was "grossly excessive" and, therefore a violation of due process, the Court of Appeals took it upon itself to ask the parties for supplemental briefing on that issue.  Presumably, this is because the Court of Appeals anticipates that Chrysler will appeal.  After acknowledging that the award is five times the original compensatory damages amount and eleven times the reduced amount, the Court concluded, "Chrysler's long-term recklessness in the face of repeated threats of violence against May and his family is sufficiently reprehensible to support it."
Lessons Learned for Employers
1.             Employers must be prepared to conduct workplace investigations in a prompt, thorough and fair manner.  This means not only responding promptly but also following-up on reasonable avenues of inquiry.  Here, Chrysler failed to interview even one of the list of suspects that it had asked May to provide.
2.             Choosing an impartial investigator is critical.  Here, Chrysler selected the wife of one of the suspects to take the lead in responding to May's complaints.  That decision caused even the slightest discrepancy in the documented follow-up to take on sinister overtones.
3.             Transparency of investigatory process is important.  As I've discussed before on this blog, procedural fairness is an important theory for employers to understand and transparency of process is a critical aspect of procedural fairness.  Here, it seems that neither the jury nor the Court of Appeals gave Chrysler credit for any "behind-the-scenes efforts" to identify the harasser or stop the harassment.
4.             Think twice before ignoring a third-party expert's "suggestion."  Here, the police recommended installing a security camera to try to identify the anonymous harasser.  When evaluated in light of Chrysler's subsequent decision to install a security camera to try to identify who was stealing company property, the decision to ignore the police suggestion seems especially problematic.
5.              Beware of blaming the victim.  Chrysler's defense that May did it all himself was deemed by the Court to be "rather unsettling."
Click here for a copy of the Court of Appeals decision in May v. Chrysler Group, LLC, (7th Cir. 2012).
______________________________________________________________
Workplace Investigations Group is headquartered in Atlanta, GA but has a national panel of professional workplace investigators who have a minimum of ten years of employment litigation experience.  As such, wherever the workplace issue arises, we provide you with an investigator who can respond to the regional need quickly and competently.   For more information:  www.Workplace-Investigations-Group.com