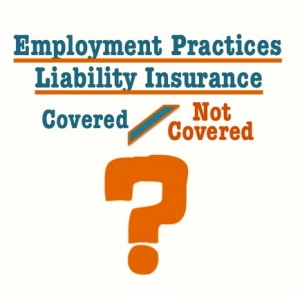 Although my first experience with Employment Practices Liability ("EPL") insurance was in the mid-90's and it has continued to grow in popularity since then, it still seems to be cloaked in mystery.  As a general matter, EPL coverage protects employers from liability for wrongful employment practices and most EPL policies cover claims for sexual harassment, discrimination, and wrongful termination.  EPL policies became popular in the mid-1990s after the surge in lawsuits that followed the passage of the Civil Rights Act of 1991, which gave employees the option of trying their claims to a jury instead of a judge, and which provided for both compensatory and punitive damages for certain employment practices violations.
I've invited an attorney who specializes in EPLI defense, coverage and risk management to help my readers uncloak the mystery surrounding EPLI.
His name is Brit Weimer and he is an attorney with over 25 years of commercial litigation experience and the co-author of Employment Practices Liability (National Underwriter, Second Edition 2012).  He is also a founding partner in the law firm of Jones Satre & Weimer PLLC in Bloomington, Minnesota.  I've include a link to his bio at the end of his blog and also a link to the book he wrote.
Here is the first of Brit's guest posts.  You can read the second installment by clicking here. 
Employment Practices Liability Insurance:  What Does It Cover? 
by Britton D. Weimer, Esq.
"Rats – would that case have been covered by our EPL policy?"
In the past 20 years, sexual-harassment, discrimination, retaliation and other "employment practices" claims have grown exponentially.  Employment-practices claims often cost over $100,000 to defend and resolve.  Thus, for most employers, obtaining liability insurance for employment claims is an essential part of risk management.
In the early years, employment claims were often covered by Commercial General Liability policies.  However, most CGL policies now have broadly-written employment-practices exclusions.  Thus, in general, the only meaningful employment practices coverage is found in an Employment Practices Liability ("EPL" or "EPLI") insurance policy.
In my experience, many employment attorneys find EPL coverages and exclusions to be confusing and mysterious.  Thus, defense counsel sometimes neglect to tender employment claims to the client's EPL insurer … until it is too late.
What is the source of this mystery and confusion?  In part it stems from the lack of uniform EPL policy language.  While a "standard" Insurance Services Office (ISO) EPL form was introduced back in 1998, most insurers still use their own language.  Fortunately, most EPL policies do have the same basic coverages and exclusions.  Here is a plain-language overview:
Coverages
Virtually all EPL insurance is written as a named-perils policy.  This means there is a positive coverage grant only for the specific wrongs defined as "wrongful acts" under the policy.  If the claim asserted against the employer is not one of the listed named perils, then there is no coverage.  So this definition is at the heart of coverage under the EPL policy.
The most common EPL "wrongful acts" are the following:
Discrimination;

Harassment;

Wrongful termination;

Failure to hire/promote;

Defamation;

Invasion of privacy/confidentiality;

Negligent hiring and supervision; and

Retaliation and reprisal.
In addition, some EPL policies provide coverage for wage and hour (FLSA) claims.  Because of the increasing frequency and severity of wage and hour claims, most employers find this coverage to be an excellent investment.
Exclusions
If there is a covered "wrongful act," the policy should then be examined to determine if the claim falls within the scope of the exclusions.  Most EPL policies exclude the following:
Fraudulent and criminal acts;

Contractual wage claims;

Workers compensation and similar laws;

ERISA; and

Bodily injury.
Many EPL policies also exclude:
Worker Adjustment and Retraining Notification Act (WARN) claims;

Americans with Disabilities Act (ADA) claims;

Wage and hour (FLSA) claims;

Nonpecuniary or injunctive relief; and

Insurance benefits.
Because of the many variations in exclusionary language, employers should be careful when shopping for EPL insurance.  Talk to your broker, attorney and/or risk manager.  A policy with fewer exclusions may cost bit more, but it may still be a good investment.
 Conclusion
EPL insurance provides employers with a vital layer of risk-management protection.  However, because of the variations in EPL policy language, it is important to review the particular policy before purchasing coverage, and before tendering the defense.
In the next installment, we will look at practical roadblocks employers often encounter when applying for EPL insurance, and when seeking EPL coverage for particular claims.
__________________________________
You can learn more about Brit by checking out his bio by clicking here.
You can get a more detailed analysis of EPLI coverages and exclusions in Chapter 1  Brit's book Employment Practices Liability:  Guide to Risk Exposures and Coverage (National Underwriter, Second Edition 2012).  Here is a link to where you can buy the book.

__________________________________
Workplace Investigations Group is headquartered in Atlanta, GA and has a national directory of professional workplace investigators who are all attorneys and have a minimum of ten years of employment litigation experience.  As such, wherever the workplace issue arises, corporate counsel and employers can easily identify an investigator who can respond to the regional need quickly, impartially and competently.   For more information: www.Internal-Investigations.com