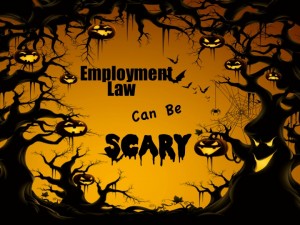 There is some great stuff in this month's edition of the Employment Law Blog Carnival.  It's hosted by Mark Toth over at ManpowerGroup.
According to Mark, '[i]t's truly terrifying out there from an employment law perspective. Everybody's suing everyone for everything. Class actions are exploding. The EEOC, NLRB, OFCCP, OSHA and a host of other acronym-ious agencies are coming after more and more (and more) employers. And new laws are popping up everywhere — California alone just passed twenty-one new statutes that are giving employers heart palpitations."
But never fear.  Mark has designed this month's edition is to "reduce your terror level by offering helpful hints from some of the brightest stars in the employment law universe."
So head on over to read Mark's Halloween Edition of the Employment Law Blog Carnival.