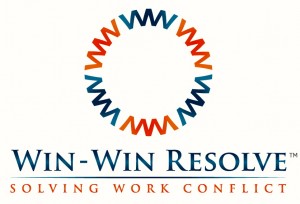 Large corporations and organizations have long known the benefits of internal dispute resolution ("IDR") programs.   For example, in the mid 90's when I was Litigation Counsel at the General Electric Company's Aircraft Engines business we implemented GE's first IDR pilot program.  The results were dramatic.   In a three-year period, employment litigation costs fell from $6 million to under $1.2 million per year.   Perhaps as importantly, this result was achieved without incurring the onslaught of frivolous claims that some had feared.
Now, with the turn-key Win-Win Resolve program I have developed, even smaller and mid-sized employers can more easily see benefits similar to those experienced by the General Electric Company and other large organizations like the Department of Energy, which saved $1.3 million by mediating workplace disputes or the U.S. Postal Service, which saw a 40 percent decline in the number of employees who filed a new EEO complaint after it implemented an internal mediation program.
Win-Win Resolve is a program designed to provide both employers and employees a process and the tools they need to use to resolve their own workplace disputes and stay out of the court system.  It encourages employees to talk directly with their managers and to utilize internal resources to facilitate constructive conflict resolution.   For disputes not resolved using internal resources and that involve a Covered Legal Claims, the parties attempt to find common ground to resolve their dispute with the aid of a neutral third-party mediator, who is not employed by the Employer.
To learn more about Win-Win Resolve, please visit www.WinWinResolve.com