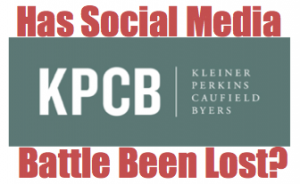 It is day 7 of the sex discrimination jury trial against a high-profile Silicon Valley venture capital firm and the social media debate is raging.
For those not following along, Ellen Pao, formerly a partner at Silicon Valley venture capital firm Kleiner Perkins Caulfield & Byers ("KPCB"), sued her then-employer for gender discrimination and retaliation in May 2012.
KPCB's efforts to keep spectators and the media out of the courtroom failed and tweets have been flying out of the courtroom.   Others are live blogging their comments. Given the amount of main stream and social media coverage of this trial, one can't help but step back and ask ….
has Ellen Pao already "won" the social media battle regardless of what the jury verdict is?
I've been writing about how social media is leveling the playing field for disgruntled employees and how millennials are increasingly using social media to challenge perceived discrimination or harassment for some time but the volume and intensity of social media coverage of this trial has taken us to a new level.
Insights for Business Leaders
If there was ever any doubt that having effective EEO and anti-harassment policies and procedures that are trusted by employees is critical in today's world, the social media firestorm surrounding the Pao v. KPCB jury trial has surely eliminated it.
Smart employers recognize that it is no longer sufficient to comply simply with the minimal legal standards in responding to employee complaints.  Rather, they are working to implement policies and procedures for conducting internal workplace investigations that comply not only with the law but also adhere to the principles of procedural fairness.
Why?  Because research tells us that employees who perceive an employer's internal dispute resolution processes and internal workplace investigations as procedurally fair or trustworthy are statistically less likely to sue or raise their complaints publicly on social media or to the government.
Click here to read an article with 6 Tips to Increase Employee Trust of Internal Workplace Investigations.