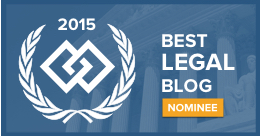 If you enjoy this blog, I'm hoping to call in a favor — it will take less than 10 seconds I promise.
After lovingly writing this blog for 3 years, I'm thrilled to share that it has been selected by the Expert Institute as a nominee for 2015 Best Legal Blog!
Now though I need your vote as the winner will be selected by the readers.
So, can you please visit this page and click the "thumbs up" button to register your vote?
Thanks in advance for your vote!