Every workplace conflict is rife with positive and negative potential.  It is a choice (conscious or not) whether to make it a source of learning and growth or simmering frustration, stagnation and possible litigation.
In the gender discrimination class action lawsuit filed last week against Greenberg Traurig there is an allegation that
"at a nationwide shareholder meeting in September 2008, roughly a dozen of the Firm's most highly accomplished female shareholders performed a song about male shareholders cheating them out of originations and decreasing their total compensation."
The lawsuit claims that the law firm's senior management did nothing in response.  Click here for a copy of the Complaint.
Query whether Greenberg's management team missed an opportunity to embrace the simmering conflict and engage in a constructive dialogue about the issues.
What were the lyrics of the song?
______________________________________________________________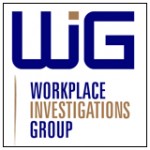 Workplace Investigations Group is headquartered in Atlanta, GA but has a national panel of professional workplace investigators who have a minimum of ten years of employment litigation experience.  As such, wherever the workplace issue arises, we provide you with an investigator who can respond to the regional need quickly and competently.   For more information:  www.Workplace-Investigations-Group.com