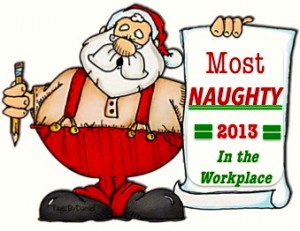 2013 gave us any number of cringe-worthy workplace situations.
Now, Santa has asked for our help as he's decided to implement the inaugural "Most Naughty in the Workplace" award.
To make it easy for us, he's created a one-question survey asking us to vote for who we think was MOST NAUGHTY in 2013 in the workplace.  Santa has promised to let me share the results before Christmas.
Happy Voting!
Click here to make your vote count:  CLICK HERE TO VOTE