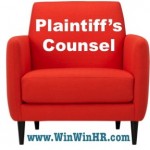 Earlier this week, I kicked-off a blog series about workplace mediation. I've dubbed this series the "Atticus Finch Walk In Your Skin"  and over the next several weeks I will be interviewing various plaintiff's counsel, in-house counsel and defense counsel to get their perspectives and learnings about how to most successfully mediate workplace disputes.
To kick us off, I've invited plaintiff's attorney Donna Ballman to join us. Donna's firm is located in Ft. Lauderdale and she represents employees throughout Florida.  Her new book, Stand Up For Yourself Without Getting Fired: Resolve Workplace Crises Before You Quit, Get Axed or Sue the Bastards, was recently named the Winner of the Law Category of the 2012 USA Best Books Awards and is currently available for purchase. She's been practicing employment law, including negotiating severance agreements and litigating discrimination, sexual harassment, noncompete agreements, and employment law issues in Florida since 1986.  To read Donna's full bio click here.
Q.  What's the worst thing you've ever seen a mediator or defense counsel do during a mediation?

A.  The absolute worst thing I've seen mediators do is display an obvious bias, which is a huge no-no. When they make it clear that they've taken a side, then they lose their credibility and it makes the case way harder to settle. I find that clients who think the mediator is biased are less likely to settle the case at mediation. It hasn't happened often, but it does happen.
Other than this obviously improper behavior, one of my pet peeves is the trend toward marathon mediation. When I started mediating, mediations were scheduled for 2 – 3 hours. The trend today is to hold mediations that last 6, 9, 12 or even more hours. I actually did an article about why I think marathon mediations don't benefit employees, and what can be done to stop them from happening.
As to management-side counsel, the worst thing I've seen happen is an attorney who comes in and starts attacking my client. They do a big statement on every reason in the world why my client was a terrible employee and is a terrible human being. What that tactic does is makes my client want to have their day in court. They dig in their heels and don't want to even discuss settlement. The better tactic is to leave the attacks for the courtroom and leave them out of mediation.
I actually had two mediations where management-side lawyers told their clients that they guaranteed they'd win on a certain issue, which meant the case didn't settle. In both cases, those lawyers lost those issues in court. I'd have loved to have been a fly on the wall in the client meeting where they had to explain what went wrong with their guaranteed win. Only an idiot would guarantee a result to a client. No lawyer can predict what a judge or jury will do, and experienced lawyers know this.
Q.  Have you ever had a situation where you saw or heard something before a mediation that made you think the case would never settle?  What happened?
A.  I've had cases that I thought would never settle that ended up settling at mediation, and cases that should have settled that didn't. Sometimes hard cases settle because of a good mediator, but I think the lawyers also have a lot to do with whether or not cases settle. If a lawyer comes into the mediation with the intent to negotiate in good faith, and really explains what a long and drawn-out process litigation is, then I think their client will have the right attitude and try to settle in good faith.
I had one case where I've known opposing counsel for years on multiple cases. We were mediating and in caucus. The mediator was saying things to me that didn't sound like what I usually hear from this lawyer. The lawyer finally came to me and asked to speak with me without the mediator. We compared what the mediator was telling each of us and realized that she wasn't relaying information or offers correctly to either side. We sat in the room and settled without the mediator. The mediator seemed surprised when we came out and told her to write it up. If you have a good rapport with opposing counsel, it can sometimes make a world of difference.
Q.  What are the top two most effective tactics you've seen a defense counsel use in a mediation?
A.  If defense lawyers come in with a reasonable offer to begin with, I think it goes a long way toward showing that they're negotiating in good faith. Too many defense lawyers have a standard lowball offer ($5000 being the most common one) when they know the case won't settle for that. Lawyers that put a real number on the table and don't start with an insult can really help convince my client that they are serious about settling. A lowball offer is usually considered a slap in the face by the employee, and it makes the mediation more difficult.
The other thing that really helps me convince my client to settle at mediation is a defense lawyer who can present me with some evidence. If you claim that my client was written up 20 times, bring the write-ups. Sometimes my clients see them and can show that they were falsified. For instance, a write-up without my client's signature is a red flag. If we can point this out, then the employer may realize that their fake claims won't fly. Sometimes my clients "forget" that they were written up for certain offenses, and seeing the write-ups can help convince them to accept a reasonable offer. Defense lawyers who hide the evidence and tell me things but won't show me the proof are asking my client and me to take a huge leap of faith that we're being told the truth. There are very few lawyers who have built up that kind of trust with me over the years, and even fewer that my clients will trust. Why hide the evidence? It will come out in court anyhow. Don't waste everyone's time claiming you have evidence that doesn't exist or that you won't show me.
Addendum:  To get the perspective of defense counsel and Fox Rothschild partner Richard Cohen click here.
______________________________________
Workplace Investigations Group is headquartered in Atlanta, GA and has a national directory of professional workplace investigators who are all attorneys and have a minimum of ten years of employment law experience.  As such, wherever the workplace issue arises, corporate counsel and employers can easily identify an investigator who can respond to the regional need quickly, impartially and competently.   For more information: www.Internal-Investigations.com